The deck will not fade, dry out, split or crack and requires minimal maintenance.  Chicago Marine Canvas is proud to offer Flexiteek synthetic teak decking for boats.   Flexiteek is a synthetic teak panel and it is made of composite materials, 100% recyclable to other products and its non–slip quality is superb and nobody yet on first viewing or touching think it is anything other than real teak.
Flexiteek 2G
Flexiteek is launching the next generation of decking, Flexiteek 2G.  Two of the biggest problems associated with synthetic teak decking is heat retention in the sun and heavy weight.   They resolve this with the introduction of Flexiteek 2G, the biggest innovation in the decking industry in over a decade.
It is 35% lighter in weight and doesn't have the problems associated with other synthetic decking because it doesn't get as hot.  This 2nd generation synthetic teak decking has, along with improving the heat reflecting properties, also been developed to reduce thermal transfer in hot climates. Flexiteek 2G cools 30% faster under foot than traditional synthetic decking, allowing you to walk across it barefoot.
Flexiteek 2G Colors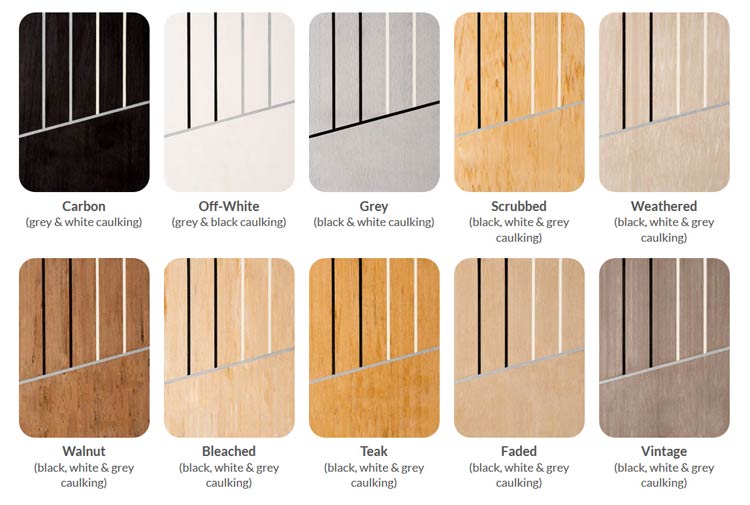 Carbon (grey and white caulking)
Off-White (grey and black caulking)
Grey (black and white caulking)
Scrubbed (black, white and grey caulking)
Weathered (black and white caulking)
Walnut (white caulking)
Bleached (black and white caulking)
Teak (black, white and grey caulking)
Faded (black, white and grey caulking)
Teak (black, white and grey caulking)
Highfield Ribs
Retro Fit Today
Chicago Marine Canvas can upgrade any boat or yacht's interior and exterior to the beautiful look that Flexiteek offers.   After reviewing your needs and finding a solution that will bring the ultimate facelift to your boat, Chicago Marine Canvas will take digital measurements of the coverage area.  We will refine your design in CAD software transferring it to a physical model to test fi
t before fabrication insuring a perfect fit.   There are multiple trim options that are available and applied where needed.  All Flexiteek decks are hand made and welded together producing a seamless solution.  Upon installation we prepare your area with a throughout cleaning before it is permanently adhered to the coverage area.  The end result is a superb flooring solution that will improve the look and functionality of any boat or yacht!
Boat Manufacturers Who Use Flexiteek
If you are though in the market for a new boat or yacht, Flexiteek can be purchased as an option in these fine vessels along with many more in addition to the below –
Flexiteek Synthetic Teak Decking for Boats: For additional information on Flexiteek 2G or Flexiteek products please visit the Flexiteek FAQ section of their website.
In addition to this decking product, we also offer marine carpeting and Dockside Decking