Ever look for a boat coffee maker?   Unfortunately there is no such thing as a coffee maker specifically manufactured for a boat but we found two that we consider the best boat coffee makers available!   In choosing a coffee maker for your boat there are a few things to consider.
Durability:  Everything "boating" needs to be a little tougher and built better that most items due to the rigorous demands of being on the water.   A glass coffee pot is the last thing you need on your boat!  Durability was a key factor when deciding on the best boat coffee makers.
Usability:  Ease of use is also very important which is why we immediately started to look at single cup coffee machines over traditional brewers.  This makes for much easier brewing while underway.
Size:  Most boat cabins have limited counter space and storage so your big coffee makers will not make this cut.   The smaller and more compact the better.
Best Boat Coffee Makers
Nespresso Pixie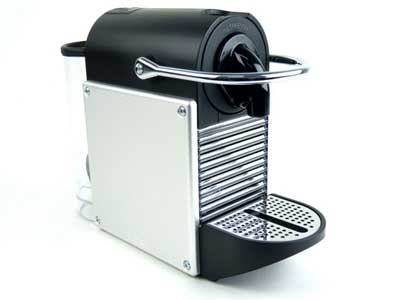 The Nespresso Pixie is one of our favorite coffee makers available.  It has a super compact size and good weight to it, when the boat starts a rocking, this coffee maker will not.   It's offered in a variety of colors but the Aluminum options looks great!
The water container for the Nespresso Pixie is removable from the back and can hold  24 oz. of water.   It has a used capsule container in the front that has a capacity of 11.  The drip tray can also be folded up for for larger glasses too.
One downside to the Pixie is that it's limited to it's Lungo pods which are 3.7 oz. of coffee.  It's best to double up brews to get a full cup.
Key Features
Compact and Light (Weight: 6.6lb & Dimensions (WxDxH): 4.4 in x 12.8 in x 9.3 in)
Eco-Friendly
Fast Heat Up 25 Seconds
Coffee Size Expresso & Lungo
Off Mode After 9 Minutes
Overall this is a great compact coffee maker that could find a home on the water in any boat.
Keurig® K10 MINI Plus Brewing System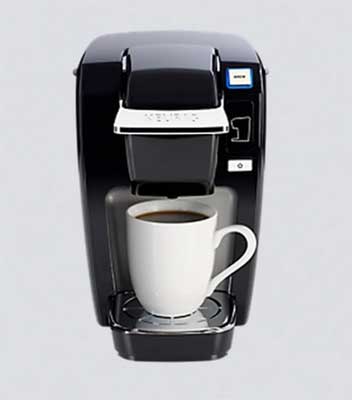 The Keurig K10 Mini Plus Brewing System is larger than the Nespresso Pixie but it offers some great additional key features.
Although larger than the Pixie, it's still a very compact machine relative to other available models.   It is also able to brew larger cups than the Pixie which is limited at 3.7 oz.  These single use K-Cups are available in over 400 varieties from 60 brands and available at almost every major retailer.
The MINI Plus Brewing System brews a perfect cup of coffee, tea, hot cocoa or iced beverage in under two minutes at the touch of a button. With the choice of three cup sizes, the MINI Plus brewer offers a removable drip tray to accommodate short travel mugs. To operate, you simply add fresh water into the single-use reservoir, choose your favorite K-Cup pack, brew and enjoy.
Key Features
Energy-Saving Mode
My Kcup Compatible
Automatic On/Off Function
Brews in Under 2 Minutes