Private Jet Service Carpet Runner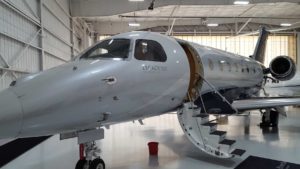 This past winter, Chicago Executive Airport contacted us, asking if we could do a carpet runner for one of their private jets. The Embraer Legacy 500 is a 12 passenger luxury jet with a 6 foot high cabin, fully berthing seats, and low cabin noise to make sure your journey is enjoyable. These customers wanted a floor runner for when the jet is in the hanger.
The first step to our process is heading out to the airplane to take measurements. This is a quick and easy process for us because of our 3D measuring device. It helps us precisely take measurements of the interior flooring of your jet, to ensure every millimeter will be covered. After we gather all the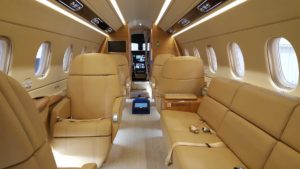 measurements we need, we head back to our shop and start our design process. Here we use CAD (Computer-Aided- Design) Software to prepare our pattern for our seamstress. Finally, once we finish up our design process, we send the pattern over to our plotter. Which consequently draws out each piece to the pattern quickly and perfectly as a result.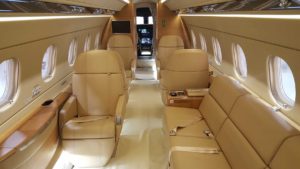 For this service carpet runner, we used Grand Reserva vinyl. This vinyl has a polyester microsuede backing, so it is soft yet durable on both the front,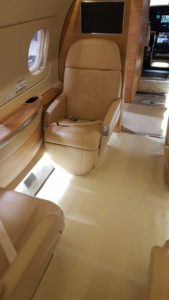 and the back. Above all, this is an aircraft certified vinyl that is flame resistant, anti-microable, and anti-bacterial.  Most noteworthy, you can clean this fabric with just a mild soap and water. We used Solarfix thread on this carpet runner. SolarFix has a lifetime guarantee. It is UV, chemical, and weather resistant.
Right now, we are currently in the process to begin to work on aircraft upholstery through the FAA! This is super exciting and allows us to open our doors to the aircraft world!
https://chicagomarinecanvas.com/wp-content/uploads/2022/05/CMC-Logo-2017-site-header.jpg
0
0
Vince Innocenzi
https://chicagomarinecanvas.com/wp-content/uploads/2022/05/CMC-Logo-2017-site-header.jpg
Vince Innocenzi
2018-08-20 09:46:17
2018-08-20 09:47:20
Private Jet Service Carpet Runner