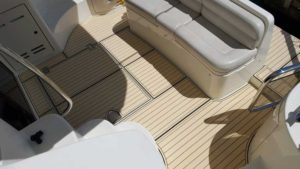 A great way to update your boat is to update the flooring. This summer, while working with Crowley's Yacht Yard, we got a job working on a Azimut 39′ Flybridge that involved all new interior and exterior flooring. As well as a new folding seat on the bridge.  Crowley's allows us year round access to all their customers boats in storage, allowing us to do work even when snow is around! This way your boat is ready to go when boating season is back!
For the exterior aft area, swim platform  and interior bathrooms, we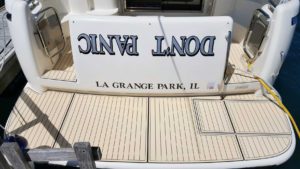 used Dockside Decking in cream over black.  This flooring was chose for this area of the boat because it is non-slip, shock absorbent, and reduces deck temperatures. It is also easy to clean and is stain resistant. Dockside decking is put on your boat, with an adhesive 3M backing, so its there to stay!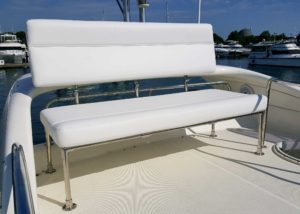 Up on the flybridge we did some upholstery work. These customers wanted more seating on the flybridge when using the boat. They needed a seat that would fold down when the canvas was up on the boat. So we made a custom folding seat, that could be folded down when not in use. For the frame of this seat we used stainless steel tubing and hinges. For the base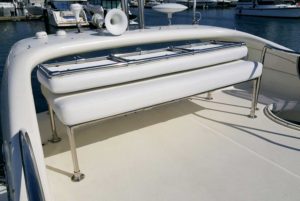 of the seat and the backrest, we used starboard. Starboard is a marine grade plastic that we love to use on new upholstery work. It is non absorbent, which means that it won't get water logged when it rains so it wont rot like wood.  We did a full back upholstered bench seat with Ship 2 Shore vinyl. We did double needle stitching, to make sure that the new custom seat matched the existing seats on the flybridge.