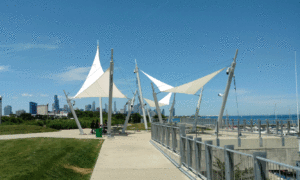 Custom shade sails are a great way to keep you cool all summer. At the 31st Harbor in Chicago we replaced their old shade sails and made some brand new ones.
We start off every project by going on site to do custom measurements with our 3d measuring device. This tool is great because it saves us time, which at the end of the day saves you money. It is quicker and more efficient then doing measurements by hand, especially on a project this size that could have possibly taken hours to measure due to the wind speeds and how high we would have had to have gone to measure at the tops of these structures. After we got our measurements, we head back to the shop to do some design work on the computer. Once we got the designs all figured out we started plotting them out with our plotter!
We fabricated these out of Polyfab, which is a commonly used shade sail material. Their line called Comtex is perfect for medium residential projects as well as large scale commercial ones. It is a high strength fabric that can reduce 90% of UV rays. Comtex is made from virgin resins and has one of the best UV stabilizers that are both lead and heavy metal free.
We also used GORE tenara thread, which has a life time guarantee. This means that the thread we used will outlast the fabric itself. It doesn't get effected by the elements like other threads.
Along with the GORE tenara we used Polyfab's shade sail 2″ edge webbing all around the edges of the shade sails. This is a polyester webbing that has a breaking strength of 4,700 pound force.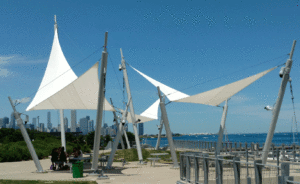 Polyfab Comtex has a 10 year limited warranty. This means if your shade sail is installed properly it should last you ten years. The care for this product requires a mild dish soap and a low pressure water hose. Using any other kind of chemicals on this product can deteriorate the UV stabilizers as well as the fabric itself, this will void it's warranty.
https://chicagomarinecanvas.com/wp-content/uploads/2022/05/CMC-Logo-2017-site-header.jpg
0
0
Vince Innocenzi
https://chicagomarinecanvas.com/wp-content/uploads/2022/05/CMC-Logo-2017-site-header.jpg
Vince Innocenzi
2017-09-25 09:17:59
2017-10-09 14:57:15
31st Harbor Shade Sails