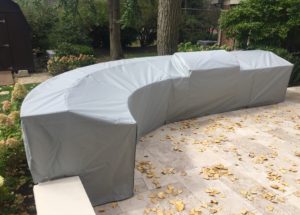 If you have a custom outdoor kitchen space you may be in need of one of our custom covers. Due to the different shapes, set ups and materials used, you may be unable to find one that will work with your custom design.
With a custom cover from us, we make sure that your piece is totally covered and secured to the space. This is a great way to keep snow, rain, and debris off of a piece like this so it will last you many years through each change of the seasons.
We always start off by coming out to your space and taking measurements with our 3d measuring device. This machine helps save us time and you money due to how quick and efficient the process is. After that we go back to the shop and do some design work on the computer, making sure we have all of your requests and needs in mind. Once we finish the design work, we plot out all of the fabric pieces with a plotter we have here in the shop, which also saves us time and you money!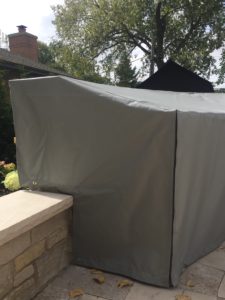 For this cover we used K Tex fabric in grey, Sunguard grey thread, and grey chain zippers. K Tex is a vinyl coated fabric that helps reassure that if water or snow sits on this fabric, it wont go through it. That way what is underneath this cover stays dry and safe from the outside elements.
We used a fastener called twist the dot on this cover. The pieces attach to the outdoor kitchen themselves and then are secured to the cover. This way the cover wont fly away in high winds. We also added two zippers on each corner for easy on/off access to the kitchen area. As well as two zippers near the grill area, if these customers want to use their grill while keeping the rest of the kitchen covered.
https://chicagomarinecanvas.com/wp-content/uploads/2022/05/CMC-Logo-2017-site-header.jpg
0
0
Vince Innocenzi
https://chicagomarinecanvas.com/wp-content/uploads/2022/05/CMC-Logo-2017-site-header.jpg
Vince Innocenzi
2017-10-09 08:20:59
2017-10-09 08:20:59
Outdoor Kitchen Cover