Custom Sunpads / Bow Pads Features
Custom Sunpads have many features that make them the perfect addition to any boat.
The Sunpads are made with a Dri-Fast foam, that causes it to dry very fast. Since Drifast foam is a firm open celled foam that is very porous, it allows water to run through it easily, instead of absorbing it like other closed cell foams. After a hard morning rain, Sunpads will be dried out by the afternoon which means no more soggy Sunpads!
Nothing is better than built in pockets, which is why Custom Sunpads have pockets along the sides to hold your valuables. No more having to worry about your phone sliding into the water while you're relaxing.
Built in headrests help with max comfort while relaxing on Sunpads. Sunpads are made with 3″ tampered foam, whereas the head rests are elevated to 6″. We also have custom foam cutting which is able to level the pads on a convex bow.
The Sunpads are made with a high-quality fabric from Sunbrella. When using a fabric with a pattern, fabric pattern matching is done to keep the Sunpad's design visually aligned and flowing at the seams and edges. Little details like this are important to ensure that the product is not only high quality, but visually appealing. The image pictured shows our commonly made Sunpads. But we are able to make all different types which are featured on our Bow Pads page.
We all know that Chicago is known for being windy, that's why we make sure that the Sunpads are securely attached to the boats.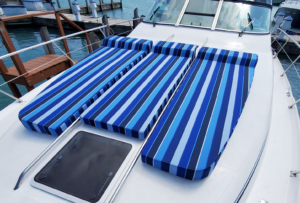 https://chicagomarinecanvas.com/wp-content/uploads/2022/05/CMC-Logo-2017-site-header.jpg
0
0
Abigail Grenz
https://chicagomarinecanvas.com/wp-content/uploads/2022/05/CMC-Logo-2017-site-header.jpg
Abigail Grenz
2022-05-19 10:04:42
2022-05-24 12:48:46
Custom Sunpads / Bow Pads Features