Embarking on a summer journey to Canada, the 65ft Navigator, Lady M, underwent a remarkable transformation with the help of Chicago Marine Canvas. Through innovative design and craftsmanship, a custom lower aft frame was fabricated, creating the illusion of a fiberglass hardtop. Complemented by the choice of fabrics, both inside and out, Lady M now boasts a seamless blend of style, functionality, and durability.
The Illusion of Fiberglass
Chicago Marine Canvas took Lady M's aesthetic to new heights by crafting a custom bimini top spanning an impressive 16ft X 10ft. Constructed with 1 ¼-inch stainless steel tubing, this frame showcases the team's expertise in combining structural integrity with visual appeal. By utilizing Serge Ferrari's Stamoid Top fabric in white, and then black through the windows, an extraordinary illusion of a fiberglass hardtop is achieved, per the customer's design choice.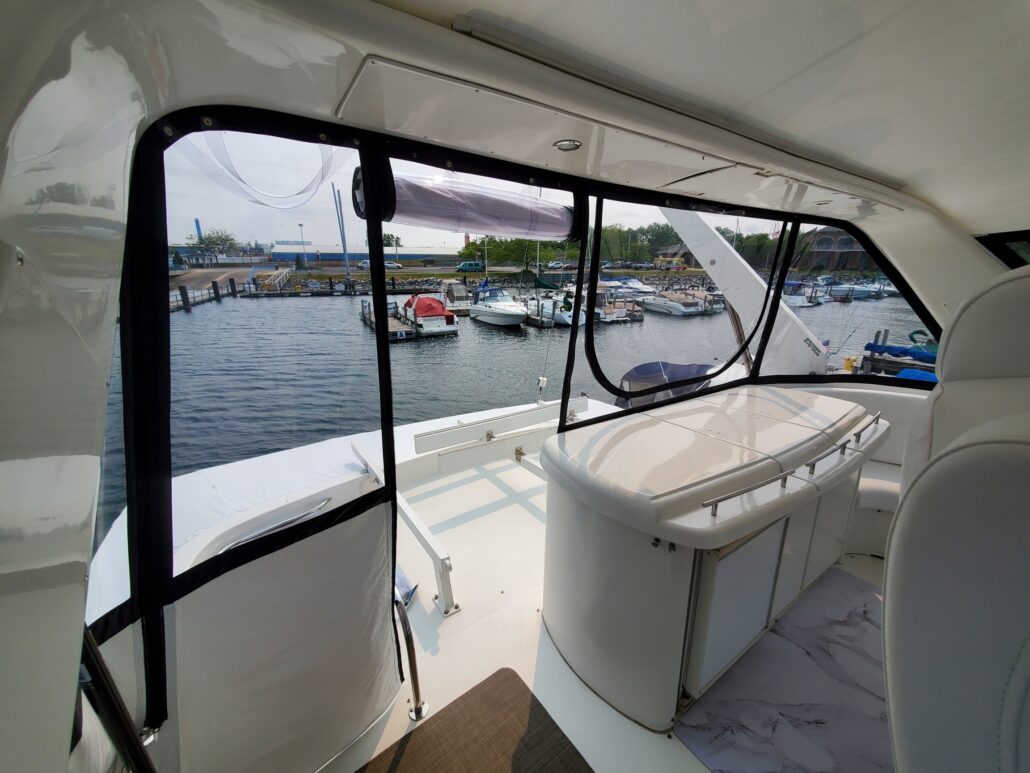 Visual Harmony and Lengthened Appeal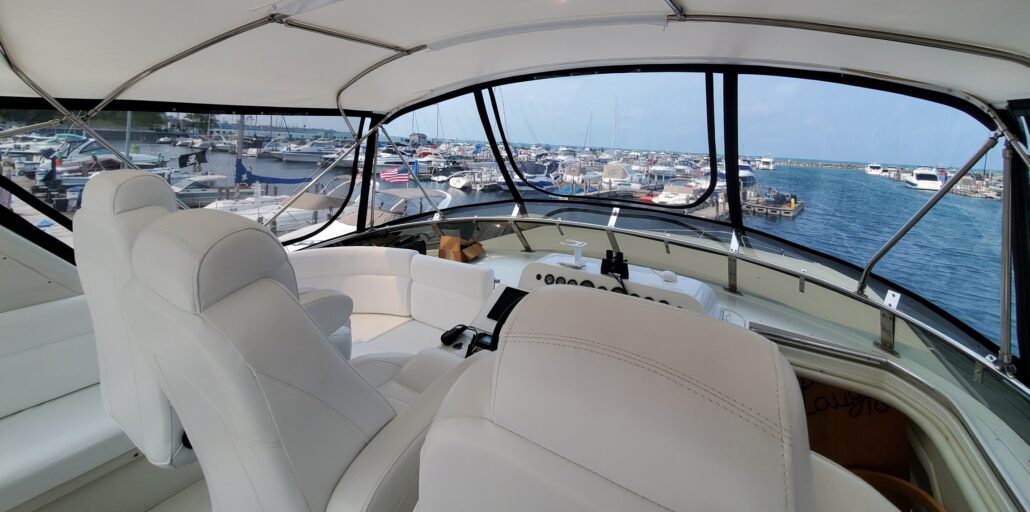 Lady M's custom canvas design makes clever use of color to enhance the vessel's aesthetics. The black fabric seamlessly blends into the horizon, creating a sleek and uninterrupted profile. This choice allows the eyes to focus on the boat's captivating features, highlighting its length and sophistication. Meanwhile, the white fabric blends harmoniously with the rest of the boat, elongating the vessel's overall appearance and drawing the viewer's gaze across its entirety.
Superior Comfort and Enduring Style
Chicago Marine Canvas didn't stop at enhancing Lady M's exterior allure.  Custom bridge and bow cushions made from Sunbrella Horizon in Capriccio White gave a touch of luxury to the vessel. These cushions not only provide unparalleled comfort but also demonstrate remarkable durability while still offering timeless elegance.
The Sunbrella Horizon Difference
Sunbrella Horizon fabric delivers exceptional performance and practicality, making it an ideal choice for Lady M's interior cushions. The fabric's resistance to mold and mildew ensures longevity, even in challenging marine environments. Additionally, its resistance to cold-cracking and UV fading guarantees that the cushions will remain vibrant and intact, withstanding the rigors of the summer sun. Furthermore, Sunbrella Horizon's bleach-cleanable feature ensures easy maintenance, allowing for worry-free enjoyment of every adventure.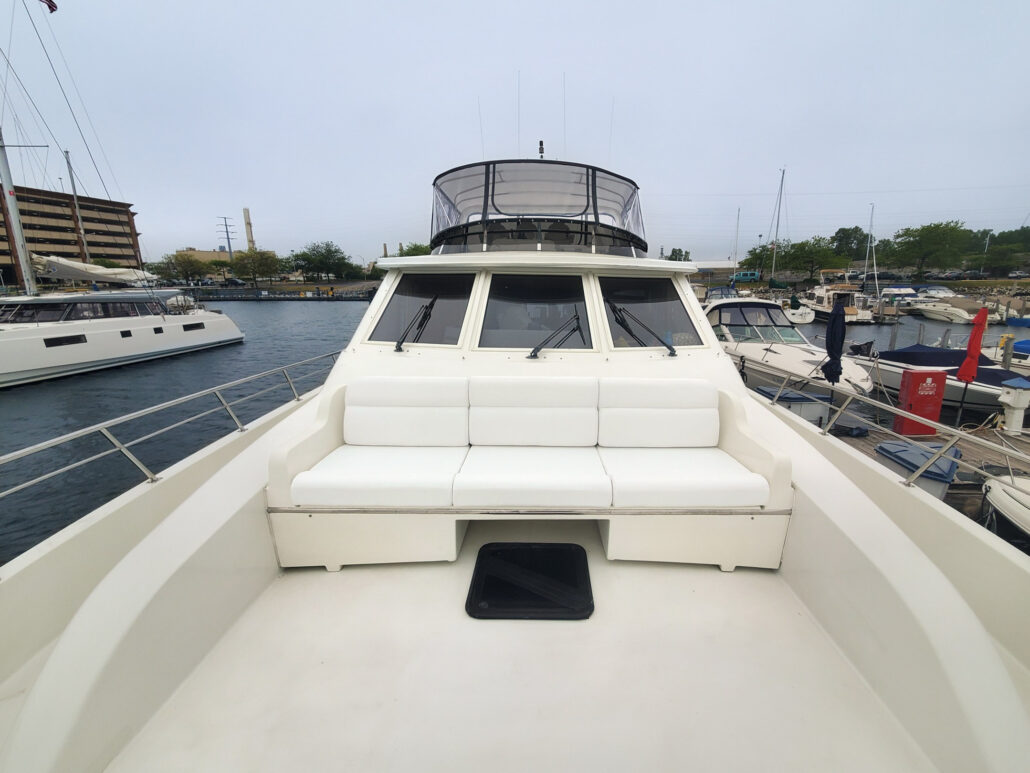 Lenzip Zippers and Solar Fix PTFE Thread
Lady M acknowledges the significance of dependable hardware and sewing techniques. This vessel is furnished with Lenzip zippers and Solar Fix PTFE thread, guaranteeing exceptional efficiency and durability. Lenzip zippers are accompanied by a restricted lifelong warranty, offering reassurance and dependability with each utilization. Coupled with Solar Fix PTFE thread, renowned for its robustness, UV resistance, and ability to withstand environmental harm, these elements guarantee the longevity of the boat's canvas components.
Elegance and Functionality
Chicago Marine Canvas has truly elevated Lady M's elegance and functionality with their custom canvas work. The creation of a custom lower aft frame, expertly designed to mimic a fiberglass hardtop, showcases their dedication to both form and function. The careful selection of fabrics, with the black and white combination, enhances the vessel's aesthetic appeal, lengthening its profile and captivating the eye. Inside, the Sunbrella Horizon cushions provide unbeatable comfort, resilience, and easy maintenance. Look out for Lady M as she embarks on her voyage to Canada for the summer and then to the Caribbean in the fall!