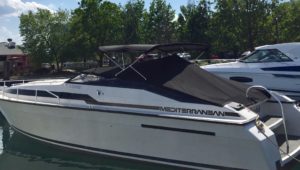 This 1989 open Mediterranean Mainship was in need of some protection from the rain, so we created it a cockpit cover using some of our favorite products.
We start out all of our projects by going on site to the boat. We bring out our special 3d device to take measurements. Our 3d measuring device is cost-effective and labor-saving. It saves us time taking measurements which in the end saves you money on your new cover! After we gather our measurements we need we head back to the shop. We upload all of our measurements we gathered and start working on the design process. We do all of our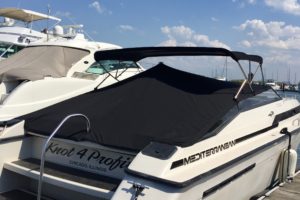 design work on the computer, creating a 3d design so we can see what the end product will look like. This way we can make sure to make any adjustments, or special needs that your cover may need on there instead of making multiple trips out to your boat. In this case we knew where all the poles for the framing of this boat were located, so during the design process we made sure to include them. After we finish the design process, we bring the design to our plotter, which is also a labor-saving, cost-effective tool we use here at Chicago Marine Canvas. It helps us save time by drawing out the patterned pieces of your new cover quickly, instead of us having to do it by hand. Then we hand everything over to our seamstress, who cuts out all the pieces and starts sewing them together.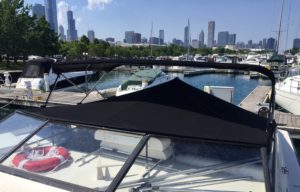 For this Mediterranean Mainship we used Sunbrella canvas in black along with black Sunbrella binding.  Sunbrella canvas is one of our favorite products to use to create a new boat canvas for our clientele. It is fade resistant and has a 10 year warranty. To sew everything together we used GORE tenara thread which is UV, chemical, saltwater and extreme weather resistant. It has a lifetime guarantee and is great for outdoor applications. This thread will outlast your canvas. Our designer made sure to include all the locations of where the framing poles were, so we could make boots that wrapped around each pole, helping prevent water leakage from getting to the interior of this boat. We created custom boots and flaps using Sunbrella and velcro so that the cover would be nice and secure onto the boat. We attached the cover using DOT snaps in black, attaching from the top of the windshield to the back of the boat. We also used Boat Vent II to help with water runoff as well as ventilation in the boat. while your cover is up.
https://chicagomarinecanvas.com/wp-content/uploads/2022/05/CMC-Logo-2017-site-header.jpg
0
0
Vince Innocenzi
https://chicagomarinecanvas.com/wp-content/uploads/2022/05/CMC-Logo-2017-site-header.jpg
Vince Innocenzi
2017-10-10 09:02:42
2017-10-10 09:06:26
Mediterranean Mainship