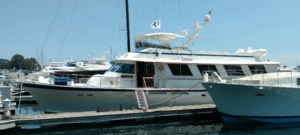 Visiting Chicago from Florida for the summer. This 70′ Hatteras lost its bimini somewhere from Traverse City to Chicago.  We got to create a custom bimini for this boat to help bring the shade back into these boaters lives!
Our first step when we get a job is going on site to take measurements. We bring our 3d measuring device which is labor-saving and cost-effective. It saves us time measuring which saves you money at the end of the day on your new custom cover. After we gather all of our measurements we need and take lots of detailed photos we head back to the shop. We do all of our design work on the computer so we can physically see what we are creating, as well as be super accurate. This helps save us trips when we go to fit the new cover onto your boat. After we do all the design work we then bring it over to our plotter. This is another one of our tools that is labor-saving.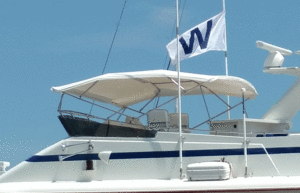 Instead of us hand drawing out all of our designs, our plotter does it for us, quickly and efficiently. Then we hand all of our plotted fabric over to our seamstress, who cuts everything out and then starts the fabrication process.
For this 70′ Hatteras bimini cover we used Stamoid fabric in white. Stamoid is UV, water, and fold resistant. It's very easy to clean with just water! Check out this video to see Stamoids performance testing videos! To sew this up we used GORE tenara thread in clear. GORE tenara UV, saltwater, chemical, and extreme weather resistant. It is backed by a lifetime guarantee. We used lenzip zippers which also have a lifetime guarantee.
We installed this cover on the day the Cubs won the world series! Go Cubs GO!
https://chicagomarinecanvas.com/wp-content/uploads/2022/05/CMC-Logo-2017-site-header.jpg
0
0
Vince Innocenzi
https://chicagomarinecanvas.com/wp-content/uploads/2022/05/CMC-Logo-2017-site-header.jpg
Vince Innocenzi
2017-10-10 10:39:58
2017-10-10 10:40:13
70′ Hatteras