Chicago Marine Canvas is an internationally acclaimed boat upholstery shop, known for its exceptional craftsmanship. We have been recognized with prestigious awards for our expertise in providing superior interior and exterior marine upholstery work. Whether you have a yacht or a boat, we offer comprehensive services tailored to meet your specific needs and requirements.
Chicago Marine Canvas can assist with recovering your existing boat seats to a complete overhaul of your interior or exterior upholstery.  Work with our experts on how to make your dreams a reality when it comes to making your boat's upholstery beautiful.  We specialize in –
Exterior Boat Upholstery
Interior Boat Upholstery
Boat Headliners
Embroidery
Boat Sunpads
Sailboat Upholstery
We work on all boat and yacht upholstery including:
Sea Ray Upholstery
Formula Boat Upholstery
Tiara Yachts Upholstery
Carver Yachts Upholstery
Cruisers Yachts Upholstery
Bayliner Yachts Upholstery
And many more
The majority of marine seating is covered in marine grade vinyl which is an excellent option for exterior seating. There are other options available through such as Sunbrella upholstery fabric and a new fabric called Silvertex.
From basic canvas fabrics to designer upholstery fabrics like intricate jacquards, Sunbrella has thousands of quality upholstery fabrics to choose from to create a look all your own.
These fabrics stand up to life on the water with a luxuriously soft touch that's fade-resistant and easy to clean even the toughest stains on the water like mold, mildew and salt residue.
Sunbrella upholstery fabrics are ideal for many boat upholstery applications.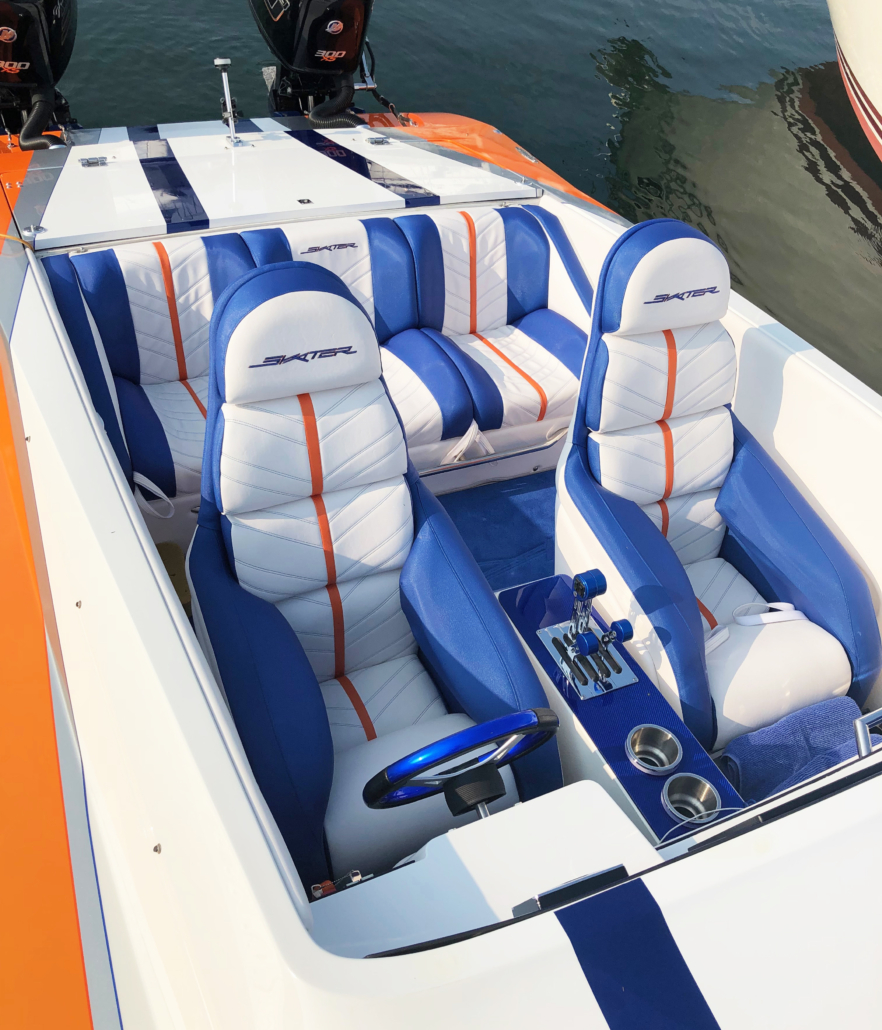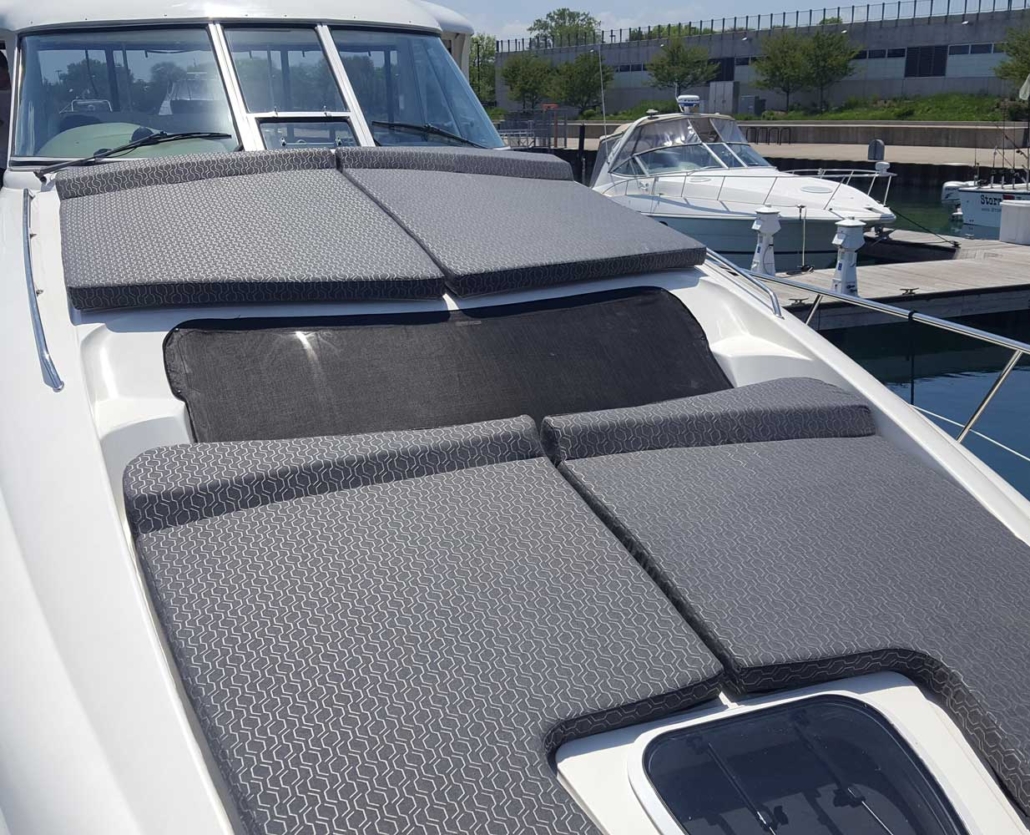 Silvertex is a coated fabric engineered, tested and certified to resist the toughest conditions in marine environments. Anti-stain treatment, impermeability, UV-resistance, Cold Crack and Mildew resistance ensure that all requirements of the sector are met.  
It can be found on many of the new yacht models that you can see at the Chicago Boat Show in January too.  It's becoming an extremely popular option with the recent shift to a more contemporary design in today's yachts.
There are a variety of options available when it comes to marine upholstery. Just like when building a home, the foundation is one of the most important pieces of the upholstered item. Traditionally most frames are build from marine lumber which is treated for the outdoor environments. Even with time though, moisture will break down the wood causing to to crack and crumble requiring replacement. Sometimes an original frame can be reused but you never want to reupholster a piece with a rotted out frame.
Painting wood will help in extending the life of a wooden frame but ideally a synthetic frame is preferred such as King Starboard. King StarBoard® is the original marine-grade high-density polyethylene sheet and the industry standard. It is the product of a proprietary process called K-Stran™, the most advanced manufacturing process for superior flatness and consistency.
King StarBoard® is environmentally stabilized to withstand the harshest marine conditions. It will not warp, rot, or delaminate when exposed to humidity or water. King StarBoard® is easy to fabricate with standard woodworking tools and requires little or no finishing.
Foam is another option often overlooked in the upholstery process. The shape of the foam is very important but other factors such as firmness and quality are also very important. The quality of foam is show in the "memory" of the foam and how quickly it regains it original form.
A high quality foam will also last for years, remember that flat sofa from college?  That was made from cheap foam. A popular option for exterior upholstered pieces such as sunpads is Dri-Fast ® foam.  Dri-Fast ® is an open cell polyurethane foam that is uniquely designed to let moisture drain through, so seats will dry faster. Dri-Fast ® cushioning "breathes", keeping moisture at bay and reducing the formation of mold. It is made from a polymer that incorporates an anit-microbial additive to resist mildew, mold and odor.