Sailboat: Dodger, Helm Cover, Winch Covers, Sail Cover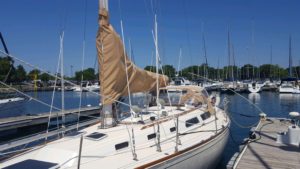 For this sailboat we created a custom dodger, helm cover, winch covers and sail cover.
Here at Chicago Marine Canvas, everything we do is custom. We use many cost-effective, labor-saving tools that help us speed up the process, therefore you save some money. This also helps us make sure that your cover will fit perfectly when it comes to install time!
The first thing we do to begin our process is journey out to your boat. Once we get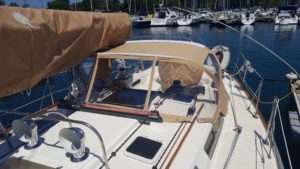 there we use our 3D measuring device to take precise pinpoint measurements. After we gather all of those, we head back to our shop where our designer gets to work. We use CAD (Computer-Aided-Design) Software during our design process. On the computer we can see the thing we can see the design in 3D.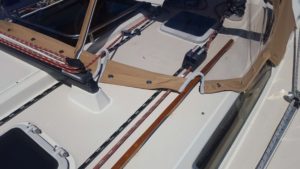 Making sure everything matched in color, we used Sunbrella fabric in the color toast. Sunbrella is one of our favorite marine fabrics to use when it comes to canvas, it comes with 10 year warranty. For all the things we sewed up for this job, we used  SolarFix thread in clear, which has a lifetime guarantee. This means, no more restitching after your new canvas has been out in the sun for a few years! This thread will outlast the canvas it self!
We made sure to add leather reinforcement patches on the forward and aft areas of the dodger where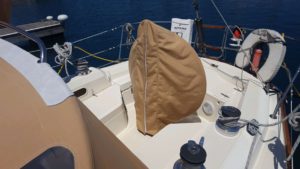 there would be high amounts of friction on the sailboat. For the windows of this dodger we used Strataglass. Strataglass is the only vinyl on the market that offers a 2 year warranty if it is properly maintained and cleaned.
For this sailboat we also made matching winch covers out of sunbrella fabric as well as a matching helm cover!
https://chicagomarinecanvas.com/wp-content/uploads/2022/05/CMC-Logo-2017-site-header.jpg
0
0
Vince Innocenzi
https://chicagomarinecanvas.com/wp-content/uploads/2022/05/CMC-Logo-2017-site-header.jpg
Vince Innocenzi
2018-08-17 12:50:46
2018-08-17 16:48:09
Sailboat: Dodger, Helm Cover, Winch Covers, Sail Cover