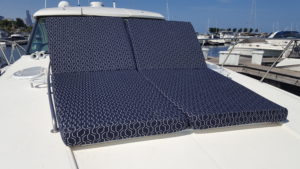 We created some custom reclining dual sunpads we created for this Cruisers Yacht 390 SC just in time for the Chicago Air and Water Show!!! The Chicago Air and Water Show is the largest free show, of its kind in the country! It happens right on and above Lake Michigan at North Ave. Beach.
Here at Chicago Marine Canvas, we can create anything quickly and efficiently many of our labor-saving tools. We start off all of our projects by going on site to take pinpoint measurements with our 3D measuring device. After we gather the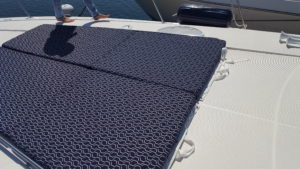 measurements, we head back to our shop and start our design process. We do all of our design work using CAD (Computer-Aided-Design) Software. This allows us to visually see the piece on hand, before we start to psychically put it together. For these sunpads, the customers wanted something that could lay completely flat, as well as sit up to watch the show in front of them.
For these sunpads we used Sunbrella upholstery fabric in Adaptation Indigo. Sunbrella upholstery fabrics come with a 5 year limited warranty and is super easy to clean! upholstery fabric is easy to clean! You can brush off any loose debris before it becomes embedded into the fabric. If you spill anything on the fabric, you can spot clean it before stains set by blotting the spill with a dry cloth. For more information on how to clean up other spills click this link!  The bottom layer of these sunpads are fabricated out of a white screen that helps with water drainage. So when it rains, your sunpads wont stay wet, the water will drain out of the bottom easily!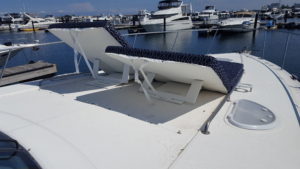 We also used Drifast foam for these two sunpads. Drifast is a open celled foam that allows water to flow through it instead of absorbing it. So if it rains, these cushions will dry out faster then others with different foam. To ensure that your sunpads wont go flying off  your boat when cruising on Lake Michigan we attached a kedar track to the front and sides of these sunpads.
These two sunpads can lay completely flat, and recline up into three different positions. If you have a flat deck where your sunpad would sit, these recliners can be custom made for your boat.
https://chicagomarinecanvas.com/wp-content/uploads/2022/05/CMC-Logo-2017-site-header.jpg
0
0
Vince Innocenzi
https://chicagomarinecanvas.com/wp-content/uploads/2022/05/CMC-Logo-2017-site-header.jpg
Vince Innocenzi
2018-08-17 11:09:56
2018-08-17 16:50:14
Reclining Dual Sunpads