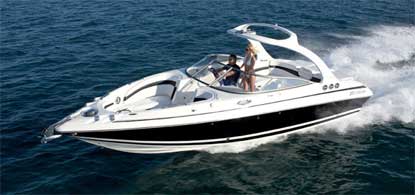 Chicago Marine Canvas sells custom Larson yacht canvas as well as yacht enclosures for use with every Larson make and model.  Larson's vessels are amongst the most fabulous on the planet so all proud owner should have a beautiful marine cover to preserve it!
OEM vs. Custom Larson Boat Covers
Just like Larson, we are working with Sunbrella Marine Canvas yet do also use stronger marine material such as Stamoid which is completely impervious to water and an excellent product for boat canvas.  The life expectancy of a factory canvas is typically about 8-10 years, after which it will start to exhibit signs of problems, yet several proprietors prefer to order changes to their top before their current canvas deteriorates.
It is possible the purchase of your water craft included an aft enclosure but now you want a complete top?

Perhaps your water craft has a full top but you fancy a mooring top to quickly remove and put back in place?
Almost all factory covers are comprised of a mix of canvas and eisenglass but in case you feel the desire for enhanced visibility, a full eisenglass canvas may be the answer.  If you are thinking of a custom-made cover for your boat, the possibilities are countless.
Chicago Marine Canvas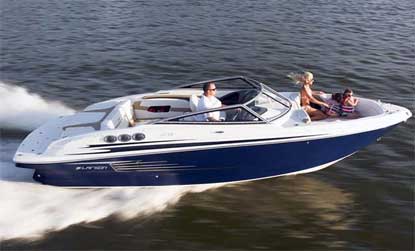 When you first contact Chicago Marine Canvas, we will investigate the needs you have for your canvas then establish the ideal yacht enclosure solution for you.  After the discussion we will have about your boat and top needs, we will visit you at your water craft to analyze the job particulars as well as ascertain the dimensions of your yacht, which is the starting point in generating a 3 dimensional rendering of the project.
We will create your canvas with a CAD (Computer-Aided Design) computer application which allows for easy modifications for windows, notches, zippers as well as fasteners.  Our CAD computer application will also take into account material loosening and many other details that would take days to put together by hand.
The result will be a boat cover that is a flawless fit. These solutions will be delivered on time as well as on budget; it's a promise.