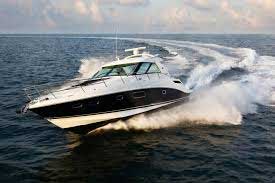 Chicago Marine Canvas offers custom Sea Ray boat covers and boat tops for all Sea Ray makes and models.
Sea Ray makes some of the most beautiful boats in the world and you should have gorgeous marine canvas to match!   Like Sea Ray, we work with Sunbrella Marine Canvas but do offer more rigorous marine canvas such as Stamoid which is 100% waterproof and ideal solution for boat covers.
Factory canvas will typically last around 8-10 year before it starts to show problems but many owner like to make changes to their canvas design before their current canvas deteriorates.   Maybe your boat came with an aft cover but now you would like a full enclosure?   Or maybe it has a full enclosure but you would like a mooring cover to quickly take on and off? Most factory enclosures come with a mix of canvas and eisenglass but if you require increased visibility, a full eisenglass enclosure may suit your needs.   The possibilities are endless when it comes to custom canvas for your boat.
Upon contacting Chicago Marine Canvas, we will discuss your canvas needs and find the right boat cover or top solution for you. After discussing your boat and canvas needs, we'll visit you at your boat to view the project requirements and then take digital measurement of your boat which is the first step in creating a 3D rendering of the project.   We'll develop your canvas in our CAD (Computer-Aided Design) program which allows for easy adjustments for windows, notches, zippers and fasteners.   Our CAD program will also take into consideration fabric relaxation and other variables that would take days to compute manually. The end result will be a perfect fitting boat canvas cover or top.  Our promise is to delivery these solutions on time and within budget.
Contact Chicago Marine Canvas today to get your customer Sea Ray boat covers.
Sea Ray Boat Covers for:
Sea Ray Sundancer Boat Covers
Sea Ray Sundancer Hardtop Boat Covers
Sea Ray Express Cruiser Boat Covers
Sea Ray Express Boat Covers
Sea Ray Express Bridge Boat Covers
Sea Ray Sedan Bridge Boat Covers
Sea Ray Motor Yacht Boat Covers
Sea Ray Super Sun Sport Boat Covers
Sea Ray Select Boat Covers
Sea Ray Sun Deck Boat Covers
Sea Ray Overnighter Boat Covers
Sea Ray Bowrider Boat Covers
Sea Ray Pachanga Boat Covers
Sea Ray Weekender Boat Covers
Sea Ray Amberjack Boat Covers
Sea Ray Monaco Boat Covers
Sea Ray Sport Boat Covers
Sea Ray Vanguard Boat Covers