Chicago Marine Canvas is selling custom Tiara boat covers together with yacht canvas for all Tiara makes and models.  Tiara sells some of the most stunning boats in the world and you should have a magnificent marine top to shelter it!
Factory vs. Custom Tiara Boat Covers
Just like Tiara does, we are employing Sunbrella Marine Canvas although we do also use tougher marine canvas for example Stamoid which is entirely impermeable and an extraordinary product for vessel tops.  A factory top possesses a lifespan of about 8-10 years before it starts to show problems, however many proprietors choose to order changes to their canvas design before their current canvas deteriorates.
It could be that your boat was purchased with an aft canvas but now you would like an entire cover?
It is also possible it has a full canvas but you would like a mooring enclosure to be able to rapidly take it on and off?
Virtually all factory tops are composed of a mix of canvas and eisenglass but if you require added visibility, a full eisenglass cover may answer your needs.  When it comes to custom cover for your boat, the options are infinite.
Chicago Marine Canvas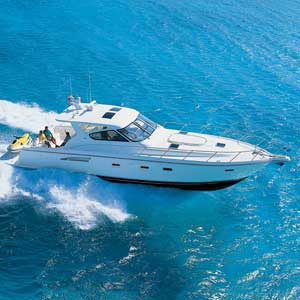 When you first reach Chicago Marine Canvas, we will study the wishes you have for your canvas then establish the correct boat top for you.  After the conversation we will have about your boat and enclosure wishes, we will visit you at your boat to gain more insight about the job specifications and then verify the digital measurements of your vessel, the starting point in creating a 3D rendering of the project.
We'll develop your enclosure with the help of a CAD (Computer-Aided Design) system that allows for minute changes for windows, notches, zippers as well as fasteners.  This CAD computer application also accounts for fabric loosening as well as other variables that would otherwise take days to combine by hand.
The outcome is always a vessel canvas that is a perfect fit. These yacht canvas will be delivered on time as well as on budget; it's a promise.