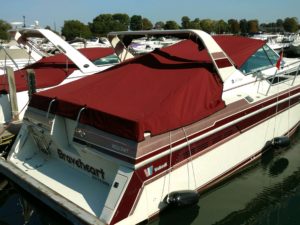 After we fabricated a new cover for this customers neighbor, he called us wanting a new cover as well. This 32′ 1988 Wellcraft St. Tropez needed a new cockpit cover to keep its interior dry!
We do each cover we create custom, which requires us to go out to each boat. We do this because each boat is set up slightly different. Whether it be a minor adjustment to framing or the overall set up of the boat. That way your cover fits your boat like a glove! Our first step is to take 3d measurements of the boat quickly and efficiently. Our 3d measuring device is cost-effective and labor saving, which means it saves us time and you money! After we take measurements we head back to the shop to do design work on the computer making sure that our designer meets all your boating needs when it comes to your new cover. After we finish the design work, we head over to our plotter which is another cost-effective, labor saving tool we have here at Chicago Marine Canvas. After it's all drawn out, we give everything over to our seamstress and she sews it up.
For this cockpit cover we used Sunbrella fabric in the color dubonnet tweed along with Sunguard polyester thread in black.
We did cut outs for this boats poles that had custom cuffs and velcro flaps to ensure security of the cover onto the boat, as well as preventing water from getting into where the poles are on this boat.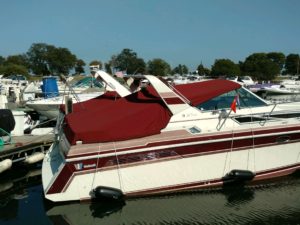 We used a boat vent II to ensure airflow so that no mildew or must get stuck inside the boat if the inside ever gets wet!
We also put 2″ black webbing all around the bottom edge of this boat to to reenforce where we placed each one of the snaps. For snaps we used DOT fasteners in burgundy to blend into the cover.
https://chicagomarinecanvas.com/wp-content/uploads/2022/05/CMC-Logo-2017-site-header.jpg
0
0
Vince Innocenzi
https://chicagomarinecanvas.com/wp-content/uploads/2022/05/CMC-Logo-2017-site-header.jpg
Vince Innocenzi
2017-09-19 07:33:34
2017-10-09 14:01:22
Wellcraft St. Tropez