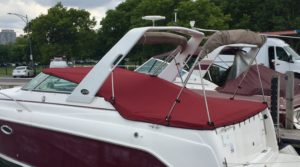 To protect the interior of your boat, it is important to have a waterproof cover. Here at Chicago Marine Canvas we do custom covers for every boat, because every boat is different and we want your cover to fit tight so there is no room for water leaks when a rain storm comes. This is a Rinker Fiesta Vee 270 and we fabricated a custom cover for it this summer.
We start off our process by going out on site to the boat to take measurements. Here at Chicago Marine Canvas we have a lot of cost-effective, labor-saving tools that help cut your covers cost down while making sure it is the perfect fit! For measuring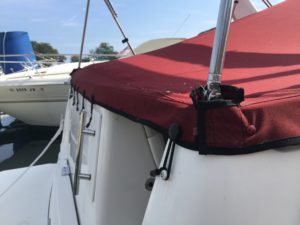 we use a portable 3d measuring device. After we gather all the measurements needed we head back to the shop to start the design process. For this cover our designer made sure to make cut outs for all the framing on this boat, leaving it up to our seamstress to make individual boots for each pole, along with velcro straps to assure the cover isn't going anywhere in these Chicago winds. After we do all of our design work we head over to our plotter which draws out all of the pieces of your cover we just finished up. This is another one of our labor-saving tools. Our plotter can quickly draw out all of our patterned pieces for your new cover, instead of us having to do it all by hand! After everything is drawn out, we hand it all over to our seamstress so she can begin her process. She starts off by cutting everything out and then looking at the pattern to figure out the best way to sew everything together. After that, she organizes all the pieces and gets to work.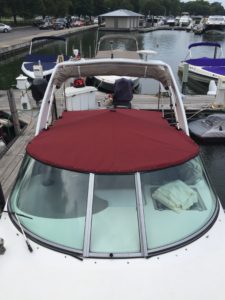 For this cover we used Sunbrella fabric in the color doubonette tweed. We love using Sunbrella fabric! It is fade resistant and has a 10 year warranty! To sew everything together we used GORE tenara thread in black. GORE tenara is another favorite product of ours. It is UV, salt water, chemical and extreme weather resistant! It has a lifetime guarantee, which  means, all of your seams will outlast your canvas! We also installed a Boat Vent II in the middle of this cover so that all water that hits it, runs off!
We used DOT snaps in burgundy to blend into this cover, as well as stay puts all along the back.
https://chicagomarinecanvas.com/wp-content/uploads/2022/05/CMC-Logo-2017-site-header.jpg
0
0
Vince Innocenzi
https://chicagomarinecanvas.com/wp-content/uploads/2022/05/CMC-Logo-2017-site-header.jpg
Vince Innocenzi
2017-10-12 09:26:33
2017-11-14 09:34:03
Rinker Fiesta Vee 270