Roll Up Window Replacements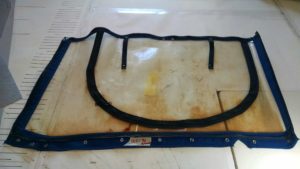 A customer came to us with  a roll up window replacement because their windows were yellowing. This can happen over the years, from sun and weather, or even from boat cleaner chemicals getting on the glass.
To replace these windows we used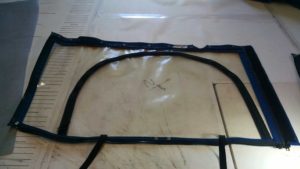 strataglass, sunbrella binding, and lenzip's waterproof chain zipper.
Our process to do this is to first take measurements of the windows using our 3D measuring device while the old glass is inside the windows still. We could do it this way because the customer said the windows still fit perfectly, they weren't too big or small when he put them on his boat recently.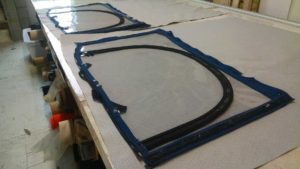 After we take the measurements we do the design work on the computer using CAD software. Then we draw out the new windows using our plotting device so they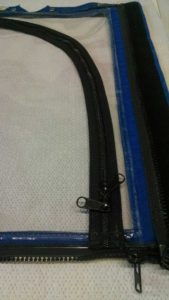 are exactly what we need.
Then we cut out the old windows, removing all the old discolored glass. After that we put down seamstick which is a double sided tape that helps keep all of our sewing holes a little more waterproof. Over time, dirt and outside debris will get in there and stick to the tape, creating a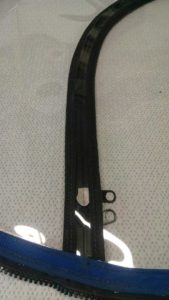 blockage in the needle hole. We put this all along the outside edge of the glass.
Then we put that aside, and we do the roll up window. First we put down the water proof zipper, also using seamstick. After the zipper is down, we put binding we've sew up on the front and back of the window, so it looks nice and clean. After that, we sew down the zipper, then we place the new window into the old canvas, and sew it down.
https://chicagomarinecanvas.com/wp-content/uploads/2022/05/CMC-Logo-2017-site-header.jpg
0
0
Vince Innocenzi
https://chicagomarinecanvas.com/wp-content/uploads/2022/05/CMC-Logo-2017-site-header.jpg
Vince Innocenzi
2017-04-04 09:02:31
2017-09-15 12:52:47
Roll Up Window Replacements