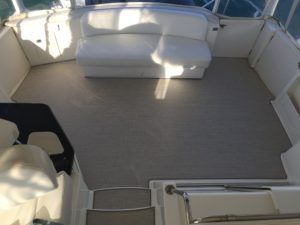 One of the things we offer here at Chicago Marine Canvas is luxury flooring. Now a days with technological advances in textiles, people aren't putting regular pile carpet on their boats anymore. It doesn't last as long, it easily gets moldy, it retains water, gets dirty fast, and doesn't seem to last long. The product we use is by a company named Infinity which produces a woven vinyl flooring.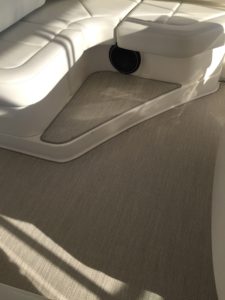 Here at Chicago Marine Canvas, we use lots of labor-saving, cost-effective tools which helps us lower the cost of our services we offer to our customers. One of those tools we use is our 3D measuring device. We use this to take all of our measurements quickly and efficiently. When it comes to flooring we head out to your boat and map out the whole flooring area that you want covered, making sure that we get the tightest fit possible, so that your new flooring looks how it should, like it was custom made for your boat. After we gather all of our measurements needed, we head back to the shop and start the design process. All of our design work is done on the computer using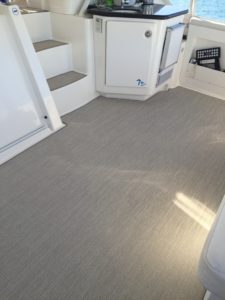 CAD (Computer-Aided-Design) software. This allows us to see the end product ahead of time, allowing us to make any minor adjustments we may need to before we go out to install your new product. It really helps us speed up the install process because it cuts our installs down to a one time thing instead of a multiple trip one. After we do all of our design work on the computer,mapping out your new custom flooring we send our design over to our plotter and draw out a template. Our plotter is another one of our special tools we use here at Chicago Marine Canvas. It helps us quickly and precisely draw out whatever we need it to, that way everything is perfect! Once our templates are all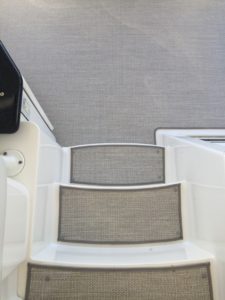 drawn out, we cut them to size and lay out your new flooring. We make sure the pattern is all going the right way, so everything will look nice and neat once we install the new flooring on your boat. We trace out the pieces of the flooring, and then we cut it all out using our electric cutting knife. The pattern picked out for this boat is called Boucle #9.Then we bind all the edges of the flooring with Sunbrella binding in charcoal grey. After that we roll it up and bring it back out to your boat for installation.
Infinity Woven Vinyl comes with a 10 year warranty. This product is 100% recyclable and is certifiably green! It is anti-mircobial allowing no bacterial or mold growth. It is soil and stain resistant. It doesn't get trashed by bird or spider defecation and is easy to clean!