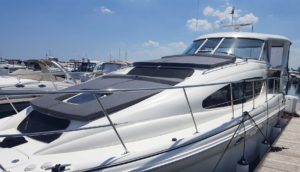 This SeaRay Sedan Bridge 390 had lots of deck space so we went a head and designed four custom sunpads to fit the bow of the boat.
Here at Chicago Marine Canvas, everything we do is custom! So we can make anything you have in mind when it comes to design and functionality. Did your last sunpad get taken away by the Chicago winds!? We can make sure your new sunpad is securely attached to your boat so you wont have to worry about it being gone when you come back to your boat! Is your sunpad looking drab? We have access to lots of fun patterns that can make your boat look chic out on the water this year.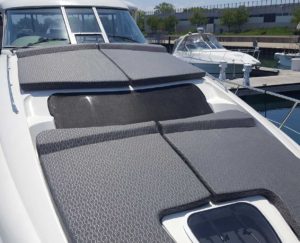 The first step to our process is going out to your boat to take measurements. Here at Chicago Marine Canvas we use a lot of labor-saving, cost-effective tools. Our 3D measuring device is one of those tools! We quickly measure your boat and then head back to the shop to start our design process. We do all of our design work on the computer using CAD (Computer-Aided-Design) software. Once we finish that up, we send everything over to our plotter, another one of our cost-effective, labor-saving tools. Our plotter draws out the pattern of your new sunpads perfectly!
For these sunpads we used Sunbrella upholstery fabric in the pattern Adaptation Stone! We can make sunpads out of any material you'd prefer, but we recommend using Sunbrellla upholstery fabric because it's softer on your skin, easy to clean in a washing machine, and has many different designs and colors available! Sunbrella upholstery fabric comes with a 5 year warranty. For thread we used Solar Fix which is a PTFE  or a Polytetrafluoroethylene type of thread, which is also known as teflon, that  is guaranteed for life! That means you can say goodbye to repairs that involve restitching. This thread doesn't get eaten by the sunlight, salt water, or other outside elements.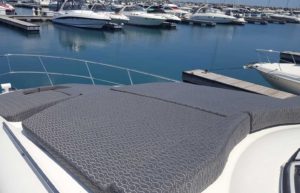 We used DriFast foam for these sunpads. Drifast foam is a firm open celled foam that is very porous. It allows water to run through it easily, instead of absorbing it like other closed cell foams. It even keeps you cool when you are on it due to the open cells of the foam allowing air to move freely through the foam. This foam is antimicrobial which helps prevent microorganism growth which happens in wet areas.
https://chicagomarinecanvas.com/wp-content/uploads/2022/05/CMC-Logo-2017-site-header.jpg
0
0
Vince Innocenzi
https://chicagomarinecanvas.com/wp-content/uploads/2022/05/CMC-Logo-2017-site-header.jpg
Vince Innocenzi
2018-07-05 10:13:47
2018-08-17 10:52:22
Custom Quad Sunpads