Donzi 3250 LXC Cockpit Cover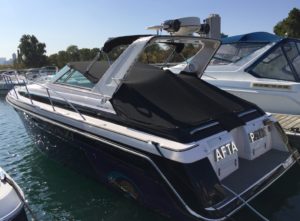 This Donzi 3250 LXC was in need of a new cockpit cover so they gave us a call! We start out all of our jobs by first going out to your boat take measurements so we can begin our process. Here at our shop we use a lot of labor-saving, cost-effective tools. When we go out to take measurements we use our 3d measuring device to digitally map out your boat. Since all boats are slightly different because of framing and other attachments, this makes it quick, and easy for us to gather our measurements as well as map out the small differences that makes your boat slightly unique then another one.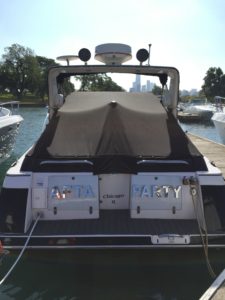 After we gather all of our measurements from your boat, we head back to the shop to start our design process. When we get to this point we upload our measurements we just gathered into our CAD software program and start making the perfect custom cover for you! After our designer finishes your custom cover, we send it over to our plotter which draws it out for our seamstress, saving us time and you money! Then we cut out your new cover and our seamstress starts sewing it up.
For this cockpit cover we used Sunbrella fabric in black. Sunbrella is fade resistant and has a 10 year warranty. We used GORE Tenara thread in black to sew this cover up. GORE Tenara has a lifetime guarantee, which means that this thread will outlast your canvas! No more sun-eaten threads on your new cover, which means no more restitching or repairs!!! Then we used a Boat Vent II to help hold the cover up to prevent pooling, as well as bring some air flow into the boat when the cover is up, to prevent mold and mildew if the interior ever gets wet!
https://chicagomarinecanvas.com/wp-content/uploads/2022/05/CMC-Logo-2017-site-header.jpg
0
0
Vince Innocenzi
https://chicagomarinecanvas.com/wp-content/uploads/2022/05/CMC-Logo-2017-site-header.jpg
Vince Innocenzi
2017-11-01 10:17:41
2017-11-08 08:30:53
Donzi 3250 LXC Cockpit Cover