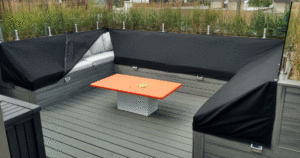 Here in the city a lot of buildings have recreational areas on their rooftops. Some of them have permeant furniture that stay up all year round, rain, sleet, or snow. Its important to protect your outdoor furniture from the sun and other elements to help them last longer.
These customers had a u-shaped couch that needed to be protected all year round. So we went on site on site to where the couch is located. Once we get out there we get out or handy 3d measuring device. This thing is so easy and efficient to use that it ends up saving us time and you money at the end of the day. After we get our measurements and take some photos of the area, we head back to the shop and start the design process. When designing this cover we made sure that water and snow could run off of it by making sure that there was a nice tight 45 degree angle from the back of the couch down to the front area. After we finish up the custom design, we plot out all of the pattern onto the fabric and let our seamstress get to work!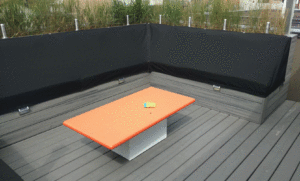 We used Sunbrella fabric in black to create this cover along with Sunstop polyester thread in black. Sunbrella is fade resistant and has a 10 year warranty!
In each corner of this cover we put a chain zipper for easy on and off access. If they want to access a part of the couch they can leave the other parts covered, and it also helps it get on a little easier!
Around the edges we added 2″ black webbing for extra reenforcement so we could securely attach the cover to the couch. That way when the great winds of the windy city come, this cover is safe and securely attached, making sure that this couch will be dry through all the seasons!
https://chicagomarinecanvas.com/wp-content/uploads/2022/05/CMC-Logo-2017-site-header.jpg
0
0
Vince Innocenzi
https://chicagomarinecanvas.com/wp-content/uploads/2022/05/CMC-Logo-2017-site-header.jpg
Vince Innocenzi
2017-09-19 09:40:58
2017-11-14 09:39:50
U-Shaped Rooftop Couch